The Bluefin Fitness KICK High-Speed Folding Treadmill is here! It is in stock and ready to rock. Our treadmill is designed to be great for people at the start of their fitness journey and also for those who are well-established in their workout routines.
We wanted to write a simple and easy guide on how to use a treadmill. This guide outlines the dos and don'ts of using this great cardio tool. Whether you are using the KICK for rehab, fitness or weightloss this guide will help you get going on your journey!

As always, please consult a GP if you have underlying health problems. You can also ask us any fitness questions by emailing: fitness-support@bluefintrading.co.uk.
1. Workout Wear
Firstly, when preparing to workout on your treadmill, you need to make sure you are wearing appropriate clothing and footwear. Do not wear long, loose-fitting clothing that could become caught in any of the moving parts of the treadmill.

We recommend trainers, tight-fitting shorts, leggings or tracksuit bottoms and a T-shirt. Something like this maybe(!)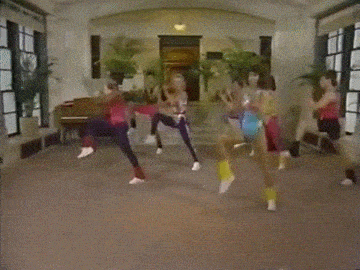 2. Safety First!
The number 1 rule in treadmill safety: Always wear the safety key attachment!
In order to avoid an accident, please ensure you have the treadmill safety key securely attached to your clothes. We recommend the top of your waistband or the bottom of your t-shit.
In the event, that you accidentally trip or slip whilst walking or running on the treadmill, removing the safety key from the console will ensure the power is paused to the motor bringing the belt to a stop. The safety clip measures when you are too far back from the console and helps avoid accident and injury.
Re-attach the safety key to commence your workout.
You really do want to avoid this…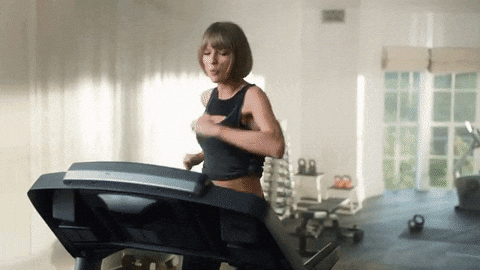 Getting started on your treadmill
Firstly, position your treadmill on a clean and level surface, close to a dedicated wall socket powerpoint. We recommended you put your treadmill on a rubber mat just to make sure you don't damage your floor.
Tip: Never start the treadmill while you are standing on the running belt. You should place your feet on either side of the running belt side rails and press the start button. Then step on. Then, when you are ready, increase the speed gradually to the desired speed level for your workout. Or use one of our workout options from the console – it chooses for you.
This will be you in no time!
3. Tips on how to use a treadmill
– When working out on your treadmill make sure you're always looking straight ahead and not at your feet, this will stop you from tripping.
– Increase the speed gradually allowing yourself to adapt to the speed setting before making any further speed adjustments
– To pause or stop your treadmill use the emergency stop button or safety key when necessary.
Awesome! You are good to go! You now know the basics of how to use a treadmill!
Again questions, email us here. You can check out the KICK and further instructions in the online manual here.